Although it seems as though more and more of our daily transactions occurred digitally, the actual physical use of cash, it's still quite prevalent, not only in the US, but across the globe. Given the very nature of cash, with how easy it is to steal, valuable services centered around managing it were bound to pop up eventually. One such firm, with its roots dating back to 1859, that has dedicated itself to providing these types of services, is none other than The Brink's Company (NYSE:BCO). Although this may seem like an ever-shrinking market, the business has done incredibly well to grow both its top line and its cash flow figures in recent years. Add on top of this how cheap shares are, and it makes for a solid 'buy' prospect in my book.
A cash-centric play
All business is, at the end of the day, about making money. But for some companies, like The Brink's Company, money is business itself. According to the management team at the firm, this enterprise serves as the global leader in total cash management, route-based logistics, and payment solutions. This includes cash that is in transit, as well as cash involved with ATMs, vault outsourcing, money processing, and more. The company also provides intelligent safe services, facilitates the transportation of valuables internationally, and so much more. Odds are, you have seen one of its trucks driving to or fro over the years. But while some investors may think that the company is only a US play, it's worth mentioning that it has operations in over 100 countries, with controlling ownership interests in companies spread across 53 nations and agency relationships with companies in the rest.
Using the roughly 1,300 facilities and 16,300 vehicles in its portfolio, the company provides its services to a variety of financial institutions, retailers, mints, Jewelers, and even government agencies. As of the present day, the company's operations are spread across four different segments. The first and largest of these, accounting for 33.8% of the company's revenue, is centered around services in North America. However, this segment only accounts for 23.7% of the firm's profits. The next largest segment is Latin America, where the company generates 26.8% of sales. But this is the true cash cow of the enterprise, representing 41% of profits in 2021. Next, we have its business operations throughout Europe. These collectively account for 21.8% of sales but for only 14.3% of profits. And finally, we have a segment referred to as Rest of World, which provides services to all of the other miscellaneous regions in which the company has a footprint. 17.9% of sales and 21% of profits come from it.

Over the past few years, the financial trajectory for The Brink's Company has been positive. Sales have risen consistently between 2017 and 2021, climbing from $3.35 billion to $4.20 billion. The biggest increase was from $3.69 billion in 2020 to the $4.20 billion reported in 2021. This surge in revenue was driven largely by acquisitions that collectively added $315.4 million to the company's top line. However, the company also benefited to the tune of $190.6 million from organic growth, with $102.2 million of it coming from Latin America alone. These sales increases were offset only marginally, to the tune of $3.3 million, by foreign currency fluctuations.
Profits have been a bit more complicated for the company. Between 2017 and 2020, net income ranged between a low point of negative $33.3 million at a high point of $29 million. In 2021, however, net income jumped to $105.2 million. More consistent has been cash flow. Between 2017 and 2019, operating cash flow expanded from $296.4 million to $368.6 million. In 2020, cash flow dipped to $317.7 million before surging to $478 million in 2021. On an adjusted basis, where we ignore changes in working capital, cash flow has been a bit lumpier but has ultimately risen from $330.9 million in 2017 to $424 million in 2021. And over that same window of time, EBITDA has risen year after year, climbing from $425 million to $682.6 million.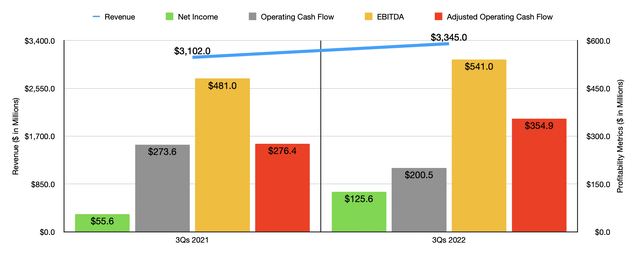 Growth for the company continued into the 2022 fiscal year. Revenue in the first nine months of the year totaled $3.35 billion. That represents an increase of 7.8% over the $3.10 billion generated one year earlier. With this rise in revenue also came an increase in profitability. Net income of $125.6 million dwarfed the $55.6 million reported one year earlier. It is true that operating cash flow fell year over year, dropping from $273.6 million to $200.5 million. But if we adjust for changes in working capital, it would have risen from $276.4 million to $354.9 million. Similarly, EBITDA also increased, rising from $481 million to $541 million.
For the 2022 fiscal year in its entirety, management said that adjusted earnings per share should be around $5.75. Meanwhile, EBITDA should come in at around $775 million. No guidance was given when it came to operating cash flow. But if we assume that it will increase at the same rate that EBITDA should, then we should anticipate a reading for the year of $481.4 million. It is worth noting that, barring anything economic negatively impacting the company, the firm is already set for more growth next year. On October 3rd, the company acquired NoteMachine for $179 million. That entity should bring on around $131 million in revenue and $36 million in EBITDA for the enterprise.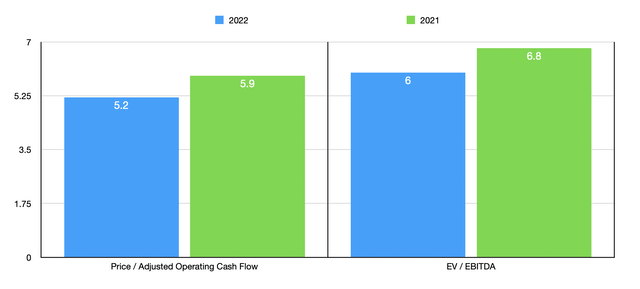 Based on the data we have at our disposal, the company is trading at a forward price to adjusted operating cash flow multiple of 5.2. This compares to the 5.9 reading that we get using data from 2021. Meanwhile, the EV to EBITDA multiple of the company should be 6. That's down from the 6.8 reading that we get using data from the year before. Generally speaking, I like to compare the companies I analyze to similar firms. Given the nature of this business, there aren't any companies that I feel are strong comparables to it. Having said that, I did find three that have some similarities. These can be seen in the table below. Using both the price-to-operating cash flow approach and the EV-to-EBITDA approach, our prospect is the cheapest of the group.
| | | |
| --- | --- | --- |
| Company | Price / Operating Cash Flow | EV / EBITDA |
| The Brink's Company | 5.2 | 6.0 |
| Brady Corp (BRC) | 20.2 | 9.9 |
| ABM Industries (ABM) | 146.9 | 8.9 |
| MillerKnoll (MLKN) | 39.6 | 9.1 |
Takeaway
All things considered, I would make the case that The Brink's Company is a healthy and vibrant enterprise. The company continues to expand, both organically and by means of acquisition. Cash flows have risen over the years and that trend looks set to continue for the foreseeable future. Add on top of this how cheap shares are on both an absolute basis and relative to somewhat similar firms, and I would make the case that it makes for a solid 'buy' at this time.